Healthy Cooking
Healthy Cooking Workshops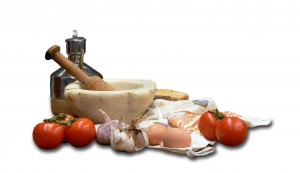 Proper nutrition is considered essential to good health, and what might be called "kitchen medicine" is just another aspect of herbalism. Your daily food is an important tool that you can use to help control all kinds of illness and is a successful key to prevention. Dietary emphasis should be placed on whole, unprocessed foods such as fruit, vegetables, beans and other forgotten precious elements.
Barbara Reale as well as being a naturopath, is Italian and she shows a boundless passion for good tasting food…but since it is hard to find healthy food with a glorious taste, her research has focused on identifying the healthiest ingredients in the world and to combine them in mouthwatering recipes. Creative kitchen born from tradition and innovation. From her point of view, creative cooking means mixing the refined taste of first class organic ingredients in balanced proportion between fruit, carbohydrates, vegetables and proteins.
In a nutshell, healthy cooking is based on high quality ingredients and a light touch in preparation methods. A tasteful dish doesn't come out only from gravy or a heavy sauce, but also from a careful choice of very fresh ingredients dressed with an innovative selection of herbs to enhance taste and digestion according to your own needs. If you are interested in improving your health, you can find her theme workshops below. During her workshops she gladly shares her successful key to theoretical and practical skills; at the end of the presentation, she will help you to use the healthiest ingredients to create charming dishes.